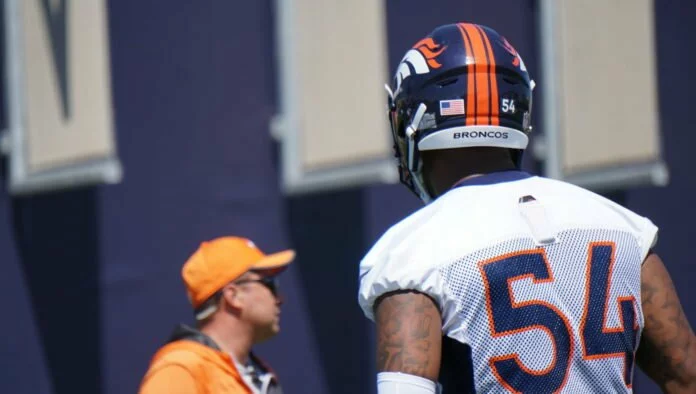 ENGLEWOOD, Colo. — The Denver Broncos linebackers are looking to improve their play in a variety of ways this season, starting with the way they approach the game.
After struggling to stay on the field in 2016, a healthy Brandon Marshall is looking to rebound in a big way this fall and believes he is on the right track. Marshall spent the offseason training in Los Angeles with a pair of former Broncos defensive backs, Duke Ihenacho (Giants) and Omar Bolden (Rams).
"I've been focusing a lot on single-leg exercises," Marshall told the media Thursday.
Marshall explained that players are rarely balanced on two legs during a football game, and increasing his individual leg strength was crucial to staying healthy.
"A lot of single exercises, single leg plyometric, heel work," Marshall said. "I've been doing a lot of those things and I feel more explosive and faster than I was the last two years. I feel good. I've been getting a lot of compliments. I've been working on a lot of core exercises too. I feel like, me, personally, I needed to work on my legs and my core. Last year, my hamstring—maybe it wasn't strong enough. So I am focusing on that."
Marshall missed five games last season, dealing with primarily a hamstring injury that nagged him throughout the year. During those games, his presence was severely missed in the run-game, as the Broncos defense gave up 150-plus yards on the ground in four of the five games he missed.
When healthy, Marshall has been a key piece for what has been an extremely successful defensive unit over the past few seasons. In three seasons with the team, Marshall has racked up 275 tackles, 3.5 sacks and has forced four fumbles.
However during those three seasons, only once (2015), has Marshall played a complete season. Obviously it worked out pretty well for the Broncos that year, as the team was able to capture its third world championship.
This season, the former undrafted linebacker from Nevada is looking for a season much like the historic Super Bowl 50 run.
"I'm definitely looking at career bests for everything," Marshall said. "Everything from tackles, interceptions, PBUs—I'm looking at career bests… I've been putting a lot of work in. I think when you put a lot of work in, you gain confidence in yourself because you know that you put the work in. You know that you're grinding. I'm definitely looking at career best for everything."
Much like Marshall, fellow inside linebacker Todd Davis is polishing his game this offseason. Unlike Marshall, Davis' efforts this offseason have widely revolved around improving in coverage.
Davis struggled mightily to cover tight ends in the 2016-17 season and in a few of the Broncos losses, this was a huge factor.
On Dec. 25, in a 33-10 loss to Kansas City, Chiefs tight end Travis Kelce dashed the Denver defense for 11 receptions and 160 yards. Earlier in the season, in a Thursday night loss to the Chargers (Oct. 13), tight end Hunter Henry hauled in six receptions for 83 yards and one touchdown.
"I would love to stay on the field during those key third downs and in the down packages," Davis said. "I'm definitely working on my coverage and just trying to have a reason for me to not be off the field."
Along with being excited to work with Marshall, whom the inside linebacker says he has a lot in common with, Davis has been rejuvenated by defensive coordinator Joe Woods.
"He just brings a new attitude, a new life to us," Davis said. "The way he calls plays and his mentality behind the defense is going to be huge for us. He's an attack kind of coach—a shoot your shot kind of coach. Go make plays. He wants you to make plays overall. I think that'll be great for us. I'm really excited for him to be our DC."
As the team gets closer to training camp, Marshall and Davis will look to continue work-shopping with the Broncos coaching staff and find ways to make an impact on the field. Whether in the weight room, in the film room, or on the practice field, these two know that the work they put in this summer is crucial to getting back to the playoffs.
"I just want to be better," Davis said. "I watched film and I saw some of the areas that I can improve in and some of the ways that I can enhance my game. I'm just excited to get back on the field and show those things. I'm just excited to get back to where we were and make another Super Bowl run."