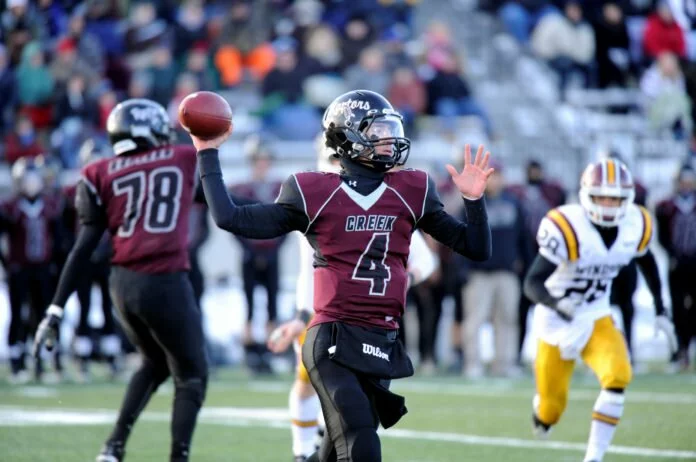 The Broncos held their annual local pro day Thursday, giving approximately 15 prospects who attended Colorado high schools the chance to work out in front of the staff prior to the NFL Draft.
Some of the participating prospects included former Silver Creek (Longmont) High School quarterback Austin Apodaca and former Grandview (Aurora) High School wide receiver Tanner Gentry. Each are viable options for the Broncos.
Gentry is a player that area fans have followed up and close since his prep days at Grandview and throughout his time at Wyoming. Listed at 6'2", 201 pounds, Gentry is not the physical specimen. He is one of the craftiest wide receivers in this draft though.
Playing in an extremely poor offense for the few seasons of his collegiate career, Gentry showed glimpses of what he is capable of.
In his first two seasons at Wyoming, Gentry totaled 71 receptions for about 800 receiving yards and two touchdowns. Nothing to gawk at, but impressive, considering the state of the team, which won nine games in two seasons.
Gentry broke out in his junior season, leading the Mountain West in receiving yards through the first seven games of the season, before suffering a season-ending injury. He returned with a vengeance his senior year though.
Playing with one of the top 2018 quarterback draft prospects in Josh Allen, Gentry more than doubled nearly every one of his highest single season receiving totals. In 14 games, Gentry hauled in 72 receptions for 1,326 yards and found the endzone once for every game he played in (14).
What is extremely impressive about Gentry is his versatility. He can line up anywhere on the field and find a way to produce. He runs clean, crisp, routes and has excellent hands. His speed is fairly pedestrian, but creates separation from the defender despite it and can be a deep threat with the right quarterback.
Gentry could be intriguing for Denver as a slot receiver. A role that the Broncos offense has lacked since Wes Welker took his giant helmet and went to the Rams.
He is not going to burn the defender after he catches the ball, but the former Pokes wideout would provide a sure-handed receiving threat for either Paxton Lynch or Trevor Siemian, that the team can select in the later rounds of the draft.
Apodaca, the other local prospect worth considering, may seem like a bit of a stretch with two young quarterbacks on the roster, but could be a sleeper pick if the team decides to go that route.
After transferring from Washington State to New Mexico, Apodaca played in a very unique two quarterback system under Bob Davies. Lamar Jordan would run the triple-option and Apodaca would handle the majority of passing situations.
Despite being limited by his team's offensive philosophy, Apodaca completed 53-of-98 pass attempts (54.1 percent) and posted a quarterback rating of 122.9 in 2016.
Considered somewhat of a project QB, Apodaca has plenty of work to do with his fundamentals, but he is extremely athletic and has a huge arm. In a video that went viral on Twitter, Apodaca is clocked throwing the football at 61 mph. If that reading is accurate, that would be harder than the current NFL Combine record.
Apodaca is a player that the team could consider pursuing in the third day of the draft or potentially bringing him in as an undrafted free agent and develop on the practice squad. He is fairly raw at this point, but Elway loves athletic, big armed quarterbacks like himself, so Apodaca could be intriguing to the Broncos.
Neither of these former local stars had the traditional path to the NFL, but either would make solid options for the team in the draft. Elway has taken chances on local college stars like Eddie Yarbrough, Kapri Bibbs and Shaq Barrett in the past, he may look to do the same with these prep stars.