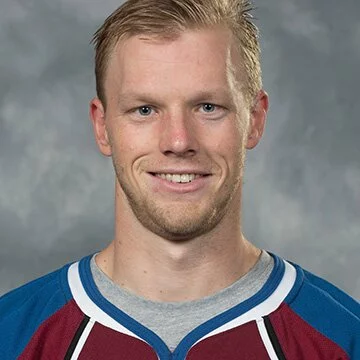 Statistically speaking, the 2016-17 season was the least productive year that several players on the Avalanche roster ever had in their careers. When the team leader in goals was a rookie with only 20 goals, it is clear that an alarmingly high number of players had disappointing seasons.
There is one player in particular that presents quite the problem moving forward for the Avalanche: Carl Soderberg.
When Soderberg first arrived in Colorado the expectations for him were high. It was hoped he would replace what the Avalanche lost when trading Ryan O'Reilly or at least come close. Immediately signing Soderberg to a five-year deal worth $4.75 million upon his arrival now seems premature. His contract has another three years remaining, keeping him in Colorado until the end of the 2019-20 season and likely leaving the Avalanche scratching their heads on what to do with their underperforming center.
Soderberg's point production from past seasons to the one that just finished was a drop-off of epic proportions. Excluding the 2012-13 seasons in which he only played six games, Soderberg has scored 48, 44, and 51 points in the last three seasons respectively. This year he was capable of scoring only 14 points.
The 31-year-old Swede's inability to score wasn't due to a lack of opportunities or chances. Looking at the entire season, Soderberg had only five shots on goal less than Avs leading goal scorer Mikko Rantanen. Soderberg's shot percentage was atrocious in comparison, however, at 4.7%, while Rantanen ended with a 15%.
The abundance of centers the Avalanche will have on their team next year presents another problem for the Soderberg-Avalanche fit. It is difficult to tell exactly what the future holds in terms of how coach Jared Bednar runs his depth chart and lineup for next year, but a possible outcome at center could be; Nathan MacKinnon as first-line C, Tyson Jost as second-line C and J.T. Compher as third line C.
This potential lineup leaves Carl Soderberg as the fourth-line center. At $4.75 million, the Avalanche would obviously be overpaying for their depth while being underwhelmed by the fourth-year center's contributions.
Another testament to his loss in value is the fact that coach Bednar found little use for Soderberg in any special-team situations. Soderberg played a career-low in powerplay minutes and one-third of the penalty-kill minutes he played in the 2015-16 season.
He did have some upside to his game this past season finishing tied for 35th in the league in faceoff percentage at 52%. While faceoffs can be important for possession, there have been statistics that show that faceoff wins have little effect on a team's production and faceoffs alone do not justify his presence in the Avalanche dressing room.
The Avalanche have several issues to deal with in the upcoming offseason and moving Carl Soderberg, likely, isn't one of the most urgent from the front office's perspective. It is more likely they will simply hope this season was an anomaly for Soderberg and his production, but Soderberg showed little reason to believe he has what it takes to be the player Colorado pays him to be.
Looking towards the future the Avalanche will have their hands full with Carl Soderberg and his awe-striking contract.