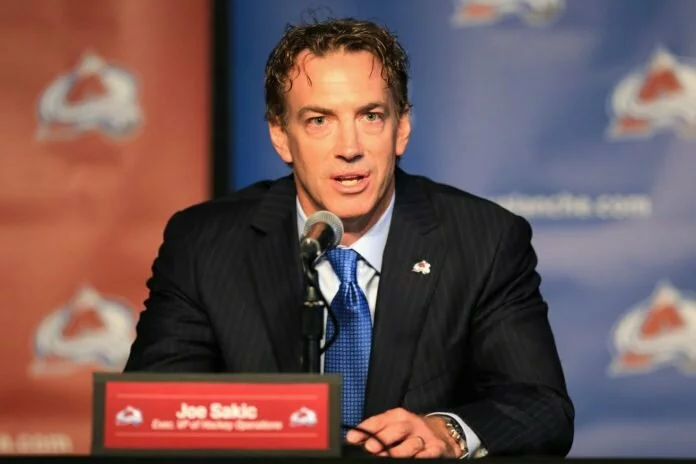 As the Avalanche continue putting this wretched season behind them and looking towards the future, the organization's focus is on improving defensively. At the moment, however, the Avs have their hands full with how they will go about making the blue line better as there are several unknowns that surround.
Avalanche general manager Joe Sakic has a myriad of possible moves to make in regards to the defense alone this offseason and faces a lot of pressure in rebuilding the defensive core. Not only is the Avalanche's success for next season depending on these potential moves, but likely Sakic's future as the Avs GM is at play as well.
Of all the possibilities out there for the Avalanche to improve defensively, there is one thing that is absolutely set in concrete. Erik Johnson's contract lasts until 2023 and, for the most part, is proving to be as valuable a member to the Avalanche organization as his contract says he is. Johnson is one member of the defense that Sakic doesn't have to worry or think about for even one second this offseason.
Along with Erik Johnson, Nikita Zadorov gave the NHL its first taste of one of the strongest and most promising defensive pairings in the league before injuries broke them apart. Zadorov is a restricted free agent this summer and there have been some rumors surrounding the 21-year-old's possible move back to his home country of Russia, but the Avalanche will likely reach a deal keeping the "ZJ" pairing in tact.
This is the point where the crystal ball gets a little hazy.
At the start of this offseason, the Avalanche will have almost 17 million dollars in open cap space to use for next season. Of course, they will have a few more free agents on the current squad they will need to take care of first, but then Colorado is free to shop the free agent market.
Aside from Zadorov, there are five defensemen among the free agents the Avalanche must make a decision on. Two of which, Cody Goloubef and Fedor Tyutin, are restricted free agents and Eric Gelinas, Duncan Siemens and Patrick Weircioch are all unrestricted. None of which are exactly deserving of another contract, but are just another example of the many decisions Sakic will be dealing with this summer.
Bringing in a new free agent defenseman that the front office sees as a solid fit in coach Jared Bednar's system would seem like a more viable option for improving the struggling defensive unit than maintaining any of the five aforementioned free agents.
Is there much room for a free agent though?
Tyson Barrie's current contract calls for him to be in Colorado for another three season's, but a lack of production such as the one Barrie displayed this season is not something the Avalanche can tolerate for another three years.
Tyson Barrie has been capable of scoring only six goals in over 70 games this season, his lowest since the 2012-13 lockout season where he only scored two goals in 32 appearances.
It seems like everyone on the Avalanche this season, aside from Mikko Rantanen is scoring goals below their career average. It appears Tyson Barrie's struggles, however, aren't only in scoring, but with the system coach Bednar put in place beginning this year.
At 5.5 million dollars per year, perhaps trading Tyson Barrie now, before he continues to lower his value, isn't such a bad thing for Sakic to consider.
Then there's Francois Beauchemin.
Beauchemin's is another contract that is due to be on the roster for Colorado coming next season. With increasingly poor play and a constant inability to handle the pace of the NHL, it seems like a good move to buy Beauchemin out of the last year of his contract.
It is unclear how the Avalanche plan to proceed with Francois Beauchemin for next season, but the high-level hockey minds in the organization can in no way be pleased with his performance from this year.
Mark Barberio is an interesting topic when it comes to the future of the defense. He is signed for another season beyond this one and seems to be a great fit with the Avalanche game plan, but is likely to be exposed in this offseason's expansion draft. With any luck, the Vegas Golden Knights skip over Barberio and he can continue growing in the Bednar structure that fits him so well.
The Avalanche then have the young guys in their system that have been deemed developmental projects that will get a long hard look at making the roster for next year.
Colorado has been giving Anton Lindholm a shot as of late, having called him up from San Antonio in mid-March to further judge his progress. He is getting a long, fair look in his season-ending stint and seems to be making a decent case for being a part of their plans for the near future.
At some point, Chris Bigras will hope to make a permanent jump to the NHL where he already has 31 games under his belt. He was close to making the team this season but ultimately was sent to San Antonio to get more playing time where he played in 40 games. However, scoring less than he did the year prior, Bigras struggled to show any progress. He will need a strong showing at training camp to prove he has what it takes, but the Avalanche have shown their commitment to Bigras' development.
Then, there is the beloved topic of University of Denver standout Will Butcher and whether or not the Avalanche decide to give him a contract. If the two sides reach an agreement Butcher will get a fair look at making the NHL squad. With just under a point a game in his senior year with DU, Butcher could help the abysmal offensive numbers the Avs have posted in recent seasons.
Andrei Mironov, drafted in the fourth round of the 2015 draft, plans to come play professionally in North America after beginning his career with Dynamo Moscow of the KHL. Mironov seems to have all of the qualities the Avalanche are looking for and appears to be ready to transition to the NHL. At 22 years of age, Mironov will be given a fair chance to make the Avalanche. In a radio interview, earlier this season Joe Sakic went as far as specifically naming Mironov when discussing the future of the Avalanche defense.
In rebuilding the Avalanche defense Joe Sakic has plenty of options and possibilities at his disposal. Considering there are so many options, it seems inevitable that Sakic finds a way to immediately improve the defense come next season. When it comes time to assess Sakic's accomplishments and failure, this defensive rebuild will be an area of heavy judgment.